Its a one piece top quality suit from Vanson. it comes with armor and the velcro knee pucks. I wore it drag racing in the cmdra last year and have bought a new one. Its in great shape and has never been down or scratched. Its black and white and has the stich marks from a name plate "WALKER" on the back. I simply covered that with a name patch(see the pic)
Already bought the exact same new suit for this year one size laerger so I now want to sell this one quickly. Please check this sizing chart ...do not trust your blue jean sizes.
$650 plus shipping!
http://www.vansonleathers.com/vanson_info/sizing_chart.htm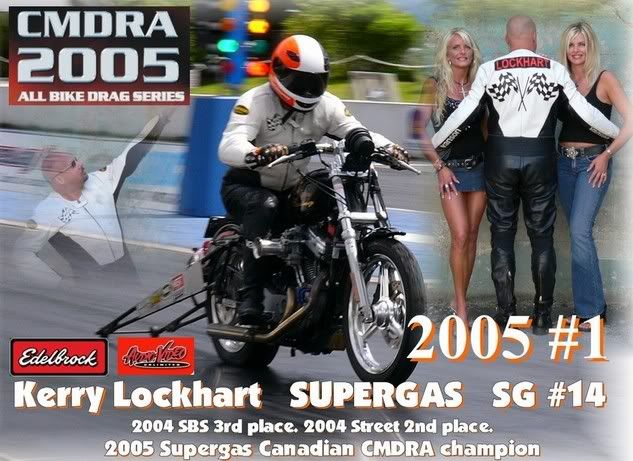 These suits are very good...if you know the name I dont have to get into it.
fantastic quality and fit with the stretch panels.
From the Vanson website.
PROperf™ Leather from shoulders down to knee area for maximum frontal ventilation.
• Dual ventilated PROperf™ expanders at shoulders to add comfort and mobility.
• PROperf™ Wrap around back expander for outstanding side-to-side motion, comfort and additional ventilation.
• Moisture resistant flexible hip padding
• Kevlar stretch panel from wrist to armhole reduces bulk and provides snug fit.
• "Raw edge" finishes at wrists and ankles for less bulk.
• PROperf™ ventilated leather expanders above knees for cool comfort
• VELCRO® brand closure featured area with GP style Knee Slider Pucks.
• Kevlar stretch panel from ankle to behind the knee and along thigh inseam to reduce bulk, add comfort and increase flexibility.
• PROperf™ ventilated leather panels on back of calf, knee to ankle for better cooling.
• F.AS. Armor System (leather lined closed-cell foam padding in shoulder, elbow, and knee areas for added protection for rider and suit).
• Perspiration wicking lining.
• Articulated Back Pad
Velocity2 Suits
Check our standard graphics which are available in off the rack sizes.
The Velocity II suit has all the same features as the Volante suit but with the traditional single front zipper.
Additionally:
• Partial zip-out perspiration wicking mesh lining for ease of washing and repairs. (Lining is sewn in at wrists and ankles).
The suit is not grey or dirty ,the perfs on the chest just make it look grey.
email me
[email protected]